ATTENTION PARENTS & STUDENTS: 2020-2021 Class Schedules will NOT be ready this week during registration. We are going from 9 periods to 8 periods and having to adjust some things. PLEASE BE PATIENT WITH US AS WE TRY TO FIGURE THINGS OUT!!!! We hope to post schedules on August 3.



Here is the Fairfield Community High School return to school plan for the 2020-2021 school year.
https://5il.co/in3y

Attention those interested in show choir tryouts and percussion camp! Mr. Livesay has had an accident this weekend and broke a leg. As they say the show will go on, but just not this week!! We will reschedule those tryouts for a later date. We will let you know as soon as those can be rescheduled. Thanks

Online Registration will be available Monday afternoon. Check our website, Facebook, and Twitter for the link.


Attention Mule Basketball Boys Players: Open gym starts this week! We will go Tuesday and Thursday from 9:30-11:30 a.m. If you have a mask please bring it in case we do not have enough room to social distance.

Attention mule football players: Please check the football google classroom for adjusted workout times. The new workout schedule will begin Monday, July 6th.

FCHS Female Athletes: StrongHER will be IN-PERSON on Monday 7/6/2020 at 9:15am. If you attended a minimum of 1 Google meets, your spot has been reserved. If you have NOT attended any Google meets, you must email Sarah Turner at
sslunaker@fchsmules.com
to reserve a spot. We MUST know you are coming due to limits on a group set forth by the IHSA. Please bring your own water and the bands that were given to you in May. We will meet in the student back parking lot. If you are not feeling well, please stay home. Come ready to work - we are excited to see you! Sorry no jr high kids!!

Hey there Music people! I hope that you all are having a fun summer and that you are getting ready to make some music! Below is a list of times and dates that you can be aware of to start the year off right! See you soon! Show Choir Auditions: Monday July 27th Dance Rehearsal from 3:00 p.m. to 5:00 p.m. Dance Audition from 5:00 p.m. to 5:30 p.m. Vocal auditions from 5:30 until finished Remember to call the school to sign up for a time for your vocal audition. Percussion Camp: July 29th, 30th, and 31st from 1 - 5 Marching Band Camp: August 3rd to 7th from 1 - 9 A few things to remember: Bring Your Mask! Bring a refillable clear water bottle Wear appropriate footwear There will be mandatory temperature checks You will complete a survey upon entry so get here early Unfortunately, all of this is subject to change due to the current state of affairs in our world today. Thank you for being patient as we navigate through this trying time. We appreciate your adaptability and willingness to make wonderful music despite the many hardships we all may be facing. Thank you for choosing music! Director Livesay

Click the link for the latest information regarding the start of the 2020-2021 school year.
https://5il.co/huy0

"The StrongHER program will remain virtual via Google Classroom until we are allowed to move into the IHSA Phase 2. We appreciate everyone's patience and understanding."

CRHPC clinic sites are offering both school and sports physicals at no out of pocket cost! Also any need for updated vaccinations will be no cost. Please see the attached flyer to set up an appointment!!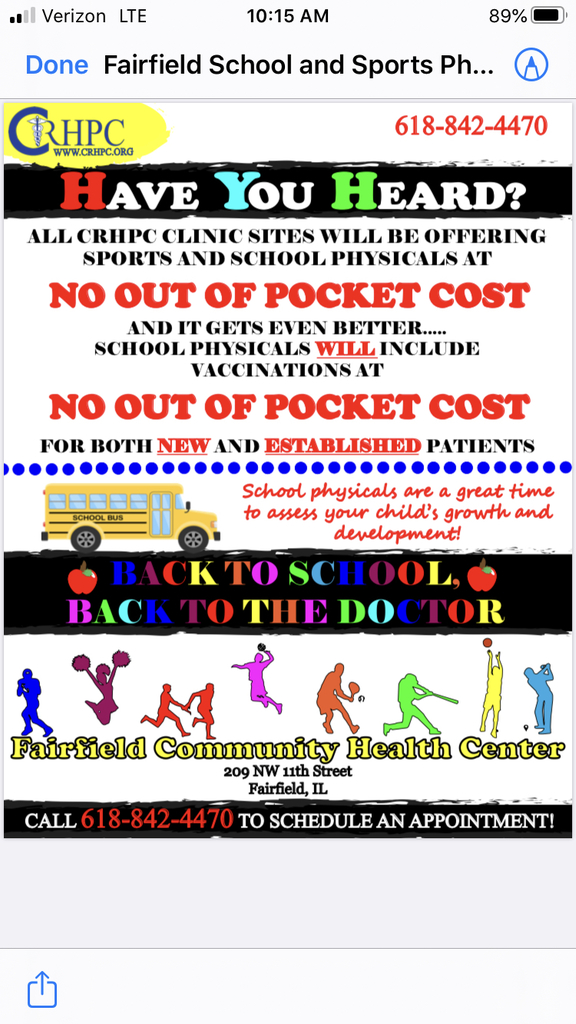 Just a reminder that FCHS Class of 2020 Graduation will be held on Friday, June 19, 2020 @ 7:00 pm. The gate to the athletic complex will open at 5:30 and all guests must have a ticket for entrance. Social distancing will be practiced for the duration of the ceremony. Iconik will be on site to take pictures and the ceremony may be viewed live on
www.wfiwradio.com
. Additional parking will be available on the FCHS practice field.

The June meeting of the FCHS School Board will be held in the Study Hall on Monday, June 22nd at 6:00pm.
Washington D.C. refund checks will be available in the Main Office on Wednesday, June 3, 2020 @ 10:00 am. The office is open from 8:00 am-3:00 pm, Monday-Thursday. Checks are made payable to the student and must be picked up in person and signed for. For questions, please call the FCHS District Office @ 847-9409.

Graduation Information 2020! Please read! Graduates you will receive a packet of information this week in the mail. If you do not please contact the high school office!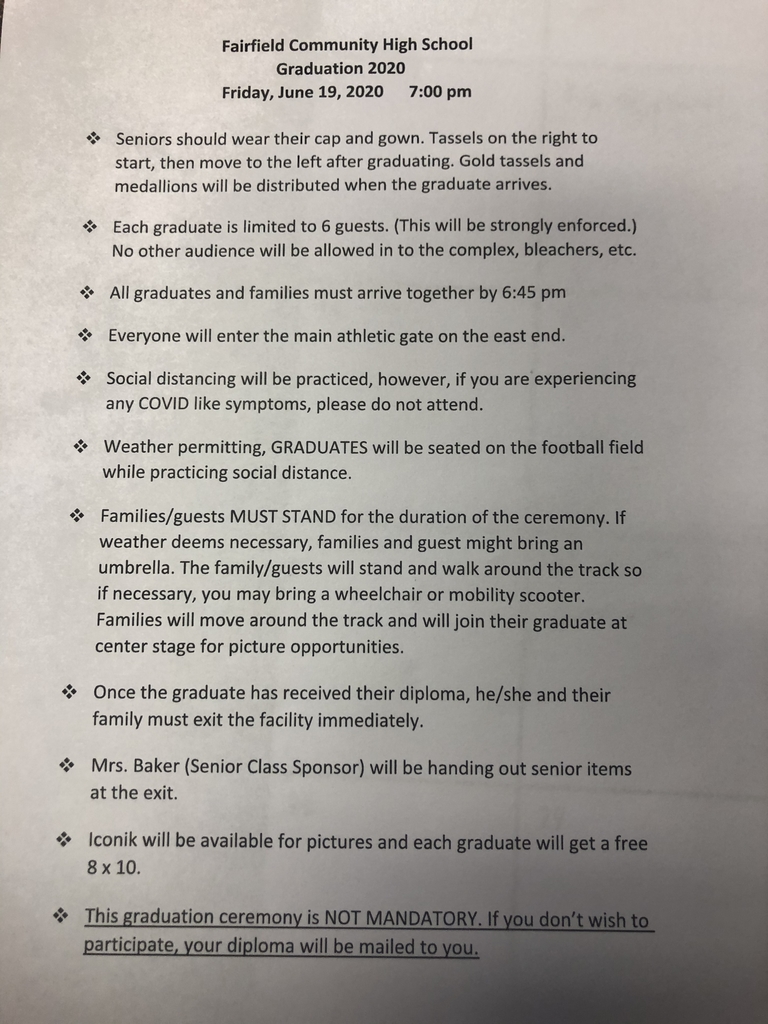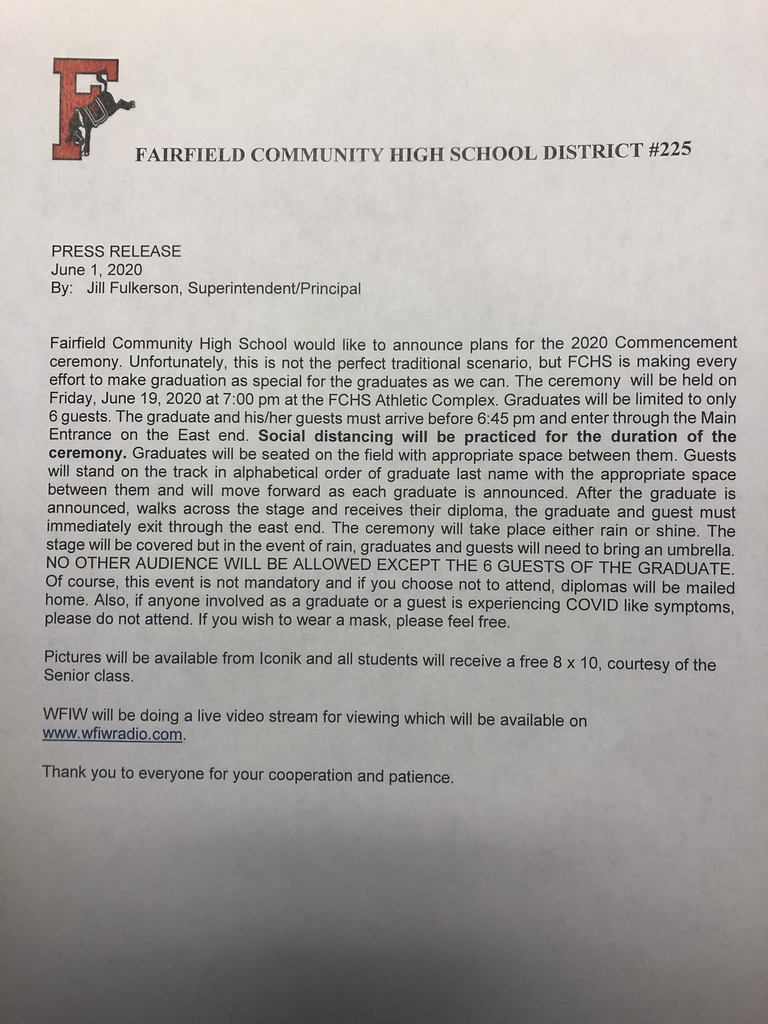 Group auditions for show choir have been postponed. We will contact everyone as soon as a new date is set.