Freshman Football 4-15 @ Benton 6:00PM: Fans may attend, Mask, Social Distance. Please enter football parking lot south of the field. Sit in the north bleachers

Attention Tennis Fans: Tennis matches on 4-15,4-20,and 4-22 have been postponed due to lack of available players. We will resume matches on 4-24 when enough players are available. We will keep you posted on reschedules.

Info for Volleyball @ Benton: Fans may attend, Mask/Social Distance, No Charge. Enter south side of school by marquis Main Entrance. Sit up stairs. Doors open @ 4:45. Live stream on NFHS network for those who can't attend.

Volleyball vs Eldorado tonight will start at 6:15pm JV. There will be NO Fresh/Soph game tonight as Eldorado doesn't have enough players. The game will be streamed on
www.wfiwradio.com


Updates from Athletic/Activities Calendar Posted last week: 4-12 No JV Football Game, 4-14 F/S Volleyball @ Benton will start @ 5:00 PM, 4-16 Volleyball @ Wayne City-No F/S match-JV @ 6:15 PM
Events at FCHS can be found at
https://www.fchsmules.com/page/calendar
. This is an up-to-date list of activities, sporting events, and end of the year happenings at Fairfield Community High School.

Tonight's Mules Football game vs. Edwards County has been postponed until tomorrow, Saturday April 10th, at 3:00pm.

Volleyball fans:
www.wfiwradio.com
will be streaming our matches tomorrow starting at 9am

Tonight's Football Game Will streaming on 3 different platforms:
www.wfiwradio.com
, Wabash Catch TV, and NFHS Network for the Edwards County feed.

Athletic/Activity calendar for the week of April 12th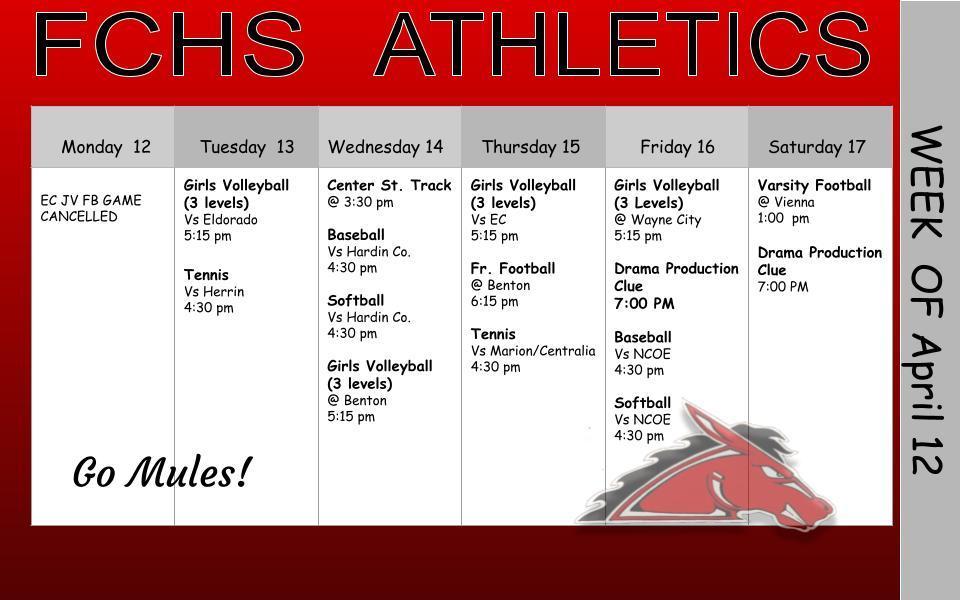 Football Ticketing: It has been brought to our attention that people are concerned about the number of tickets being sold. To insure we are not going over limit we will distribute tickets today to students, players, cheer, and band members. Visitors will receive 150 tickets. All of these tickets are $3.00 that will be paid at the gate. We will have limited number of tickets at the gate.



Congratulations to Blake Pruitt and his family on signing his letter of intent at Oakland City University for baseball.

No JV football at Hamilton County today due to their lack of numbers.

Mules defeat Hamilton Co. 44-0

Mules lead 41-0 mid third. Running clock

Mules lead Ham co 35-0 at half

Mules lead Ham co 35-0 with 3:30 in the second quarter