Hey there Music people! I hope that you all are having a fun summer and that you are getting ready to make some music! Below is a list of times and dates that you can be aware of to start the year off right! See you soon! Show Choir Auditions: Monday July 27th Dance Rehearsal from 3:00 p.m. to 5:00 p.m. Dance Audition from 5:00 p.m. to 5:30 p.m. Vocal auditions from 5:30 until finished Remember to call the school to sign up for a time for your vocal audition. Percussion Camp: July 29th, 30th, and 31st from 1 - 5 Marching Band Camp: August 3rd to 7th from 1 - 9 A few things to remember: Bring Your Mask! Bring a refillable clear water bottle Wear appropriate footwear There will be mandatory temperature checks You will complete a survey upon entry so get here early Unfortunately, all of this is subject to change due to the current state of affairs in our world today. Thank you for being patient as we navigate through this trying time. We appreciate your adaptability and willingness to make wonderful music despite the many hardships we all may be facing. Thank you for choosing music! Director Livesay

Click the link for the latest information regarding the start of the 2020-2021 school year.
https://5il.co/huy0

"The StrongHER program will remain virtual via Google Classroom until we are allowed to move into the IHSA Phase 2. We appreciate everyone's patience and understanding."

CRHPC clinic sites are offering both school and sports physicals at no out of pocket cost! Also any need for updated vaccinations will be no cost. Please see the attached flyer to set up an appointment!!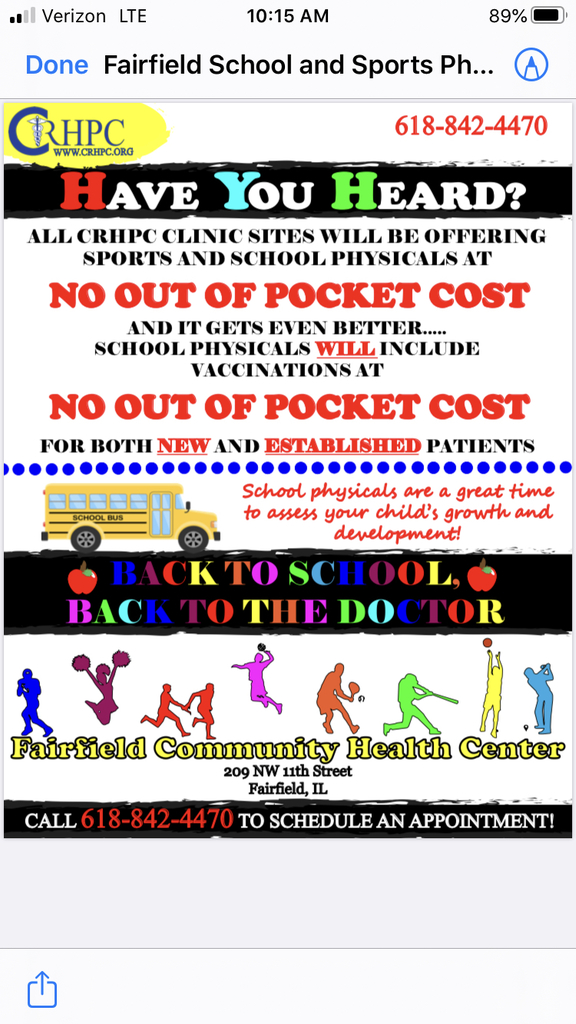 Just a reminder that FCHS Class of 2020 Graduation will be held on Friday, June 19, 2020 @ 7:00 pm. The gate to the athletic complex will open at 5:30 and all guests must have a ticket for entrance. Social distancing will be practiced for the duration of the ceremony. Iconik will be on site to take pictures and the ceremony may be viewed live on
www.wfiwradio.com
. Additional parking will be available on the FCHS practice field.

The June meeting of the FCHS School Board will be held in the Study Hall on Monday, June 22nd at 6:00pm.
Washington D.C. refund checks will be available in the Main Office on Wednesday, June 3, 2020 @ 10:00 am. The office is open from 8:00 am-3:00 pm, Monday-Thursday. Checks are made payable to the student and must be picked up in person and signed for. For questions, please call the FCHS District Office @ 847-9409.

Graduation Information 2020! Please read! Graduates you will receive a packet of information this week in the mail. If you do not please contact the high school office!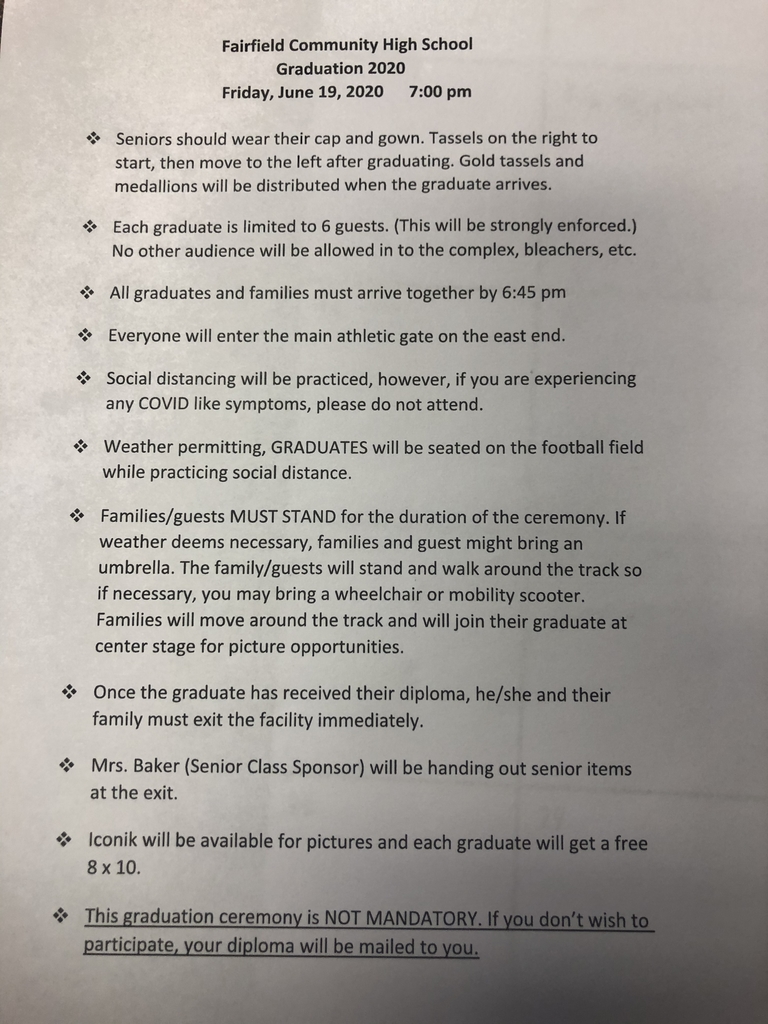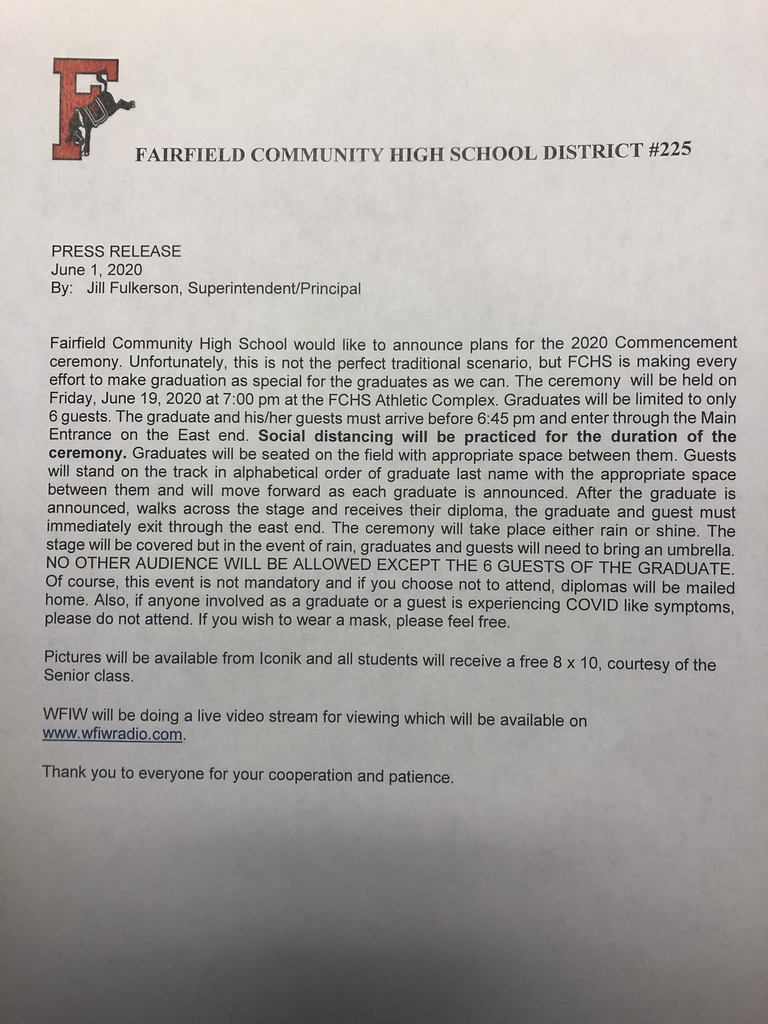 Group auditions for show choir have been postponed. We will contact everyone as soon as a new date is set.
Attention mule football players: Workouts are posted in the football google classroom. If you need access to the classroom, please email Coach Townsend. Freshman you will need to set up a Gmail account until you get your high school one. Please email Coach Townsend for access.
jtownsend@fchsmules.com
Attention: FCHS Female Athletes please be checking Google Classroom to accept your invitation to join the StrongHER ACL Camp. Due to the current restrictions, Trainer Sarah and Coach Conrad will be providing this preventative program virtually. If you have not been invited, please contact Sarah Turner to be added to the class. Class starts June 1 and we will be utilizing Google Meetings to virtually train you and your teammates together. This is currently only open to incoming freshmen through seniors at this time. Incoming Freshman,you will need a Gmail account as your Jr. High accounts will be deactivated soon and your High School account will not be available until the start of school!! Other coaches will also be using this method to get information out!! Then email
sslunaker@fchsmules.com
or
tconrad@fchsmules.com
to get signed up!!! #MuleStrongHER
Congratulations to our two retirees. Mrs Pat Gottfried and Mr Bob Simmers both observed their last day of school today. Good luck. We will miss you!!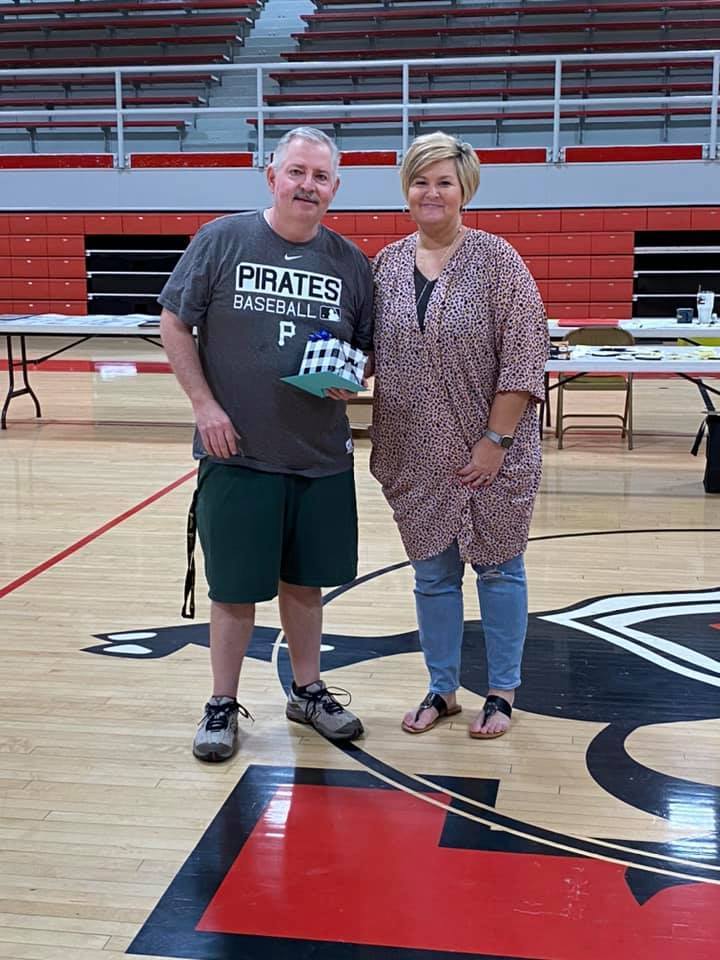 FCHS is joining in with several schools around the state on Friday, April 17 at 20:20 military time (8:20 pm) by turning on our Friday Night Football Lights for 20 minutes! We ask you flip on your porch light as well to just pay another little tribute to our seniors!!!

Congratulations to Kane Hixenbaugh! Kane was selected to play on the Southern 1/2A IBCA all star team! Unfortunately due to COVID-19 the game is canceled. It is still a great honor to be selected!

Remember that the Book Fair is this week! The Book Fair will be open from 7:30 AM to 4 PM each day. Don't forget to send money with your kids so that they can check out the latest reads!